27 Dramatic Black Bedrooms – Chic Black Bedroom Ideas
5 min read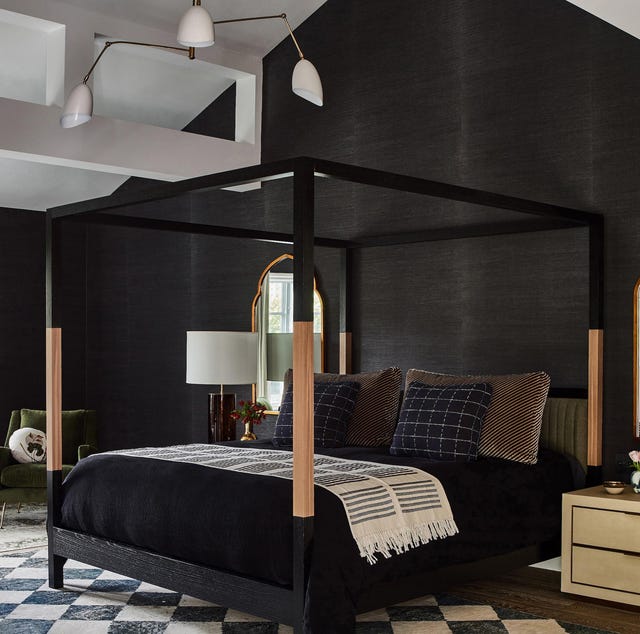 Dan Arnold
Black bedrooms: rebel move or the key to a sophisticated sanctuary? More and more designers are proving the latter to be true, casting bedrooms in the darkest hue on the spectrum to stunning effect. While black doesn't always make the go-to list of neutrals, it's actually a fabulous one, creating a high contrast with virtually any color it's paired with, be it white or gray, or any color in between. Which brings us to yet another perk of black: there are few colors that it won't look terrific with.
Those who've been contemplating a black room will find that black is especially easy to integrate into the bedroom, where its inherent mood of mystery will feel like a natural fit. Remember: black bedrooms don't have to adhere to a monochromatic scheme. Black walls can be a powerful background for colorful artwork, or a striking way to set off a pair of floor-to-ceiling statement drapes. Those who favor a black-on-black bedroom should consider incorporating an array of different textures and finishes, such as matte walls and lacquered furniture. Another trick to ensure your black bedroom doesn't vanish completely into the dark side? Good lighting. Pump up the brightness with ample table lamps and don't hesitate to make overhead lighting a priority.
If you're among those who have been contemplating the magic of a black bedroom, we've gathered a gorgeous collection of photos that illustrates exactly why it's a go-to decorators swear by.
1 of 27
Soulful Charcoal

Birmingham-based artist William Rankin McLure cloaked his bedroom in a deep charcoal hue and pulled in plenty of white accents to heighten the drama.
2 of 27
Take it to the Matte

To juxtapose a silver sconce and convex mirror, designer Andrew Brown selected a matte black paint for the accent wall behind a crisp white upholstered bed.
3 of 27
Night Shimmers

One way to prevent a black bedroom from disappearing into a black hole? Do as design firm De-spec did and go for a black statement wall with just a glimmer of metallic.
4 of 27
Safe Jet

An all-black room can make a masterful canvas for a piece of statement art, as shown in this tongue-in-cheek just black bedroom cued up by designer Sanjyt Syngh.
5 of 27
Texture Talks

Designer Stefani Stein applied black grasscloth wallpaper to the walls of a bedroom she designed for discerning clients. The result is a room teeming with dimensionality.
6 of 27
Dark Side of the Room

Design firm De-spec elected to paint only one wall black in this modern bedroom, illustrating that you don't need much black to make a dramatic impact.
7 of 27
Monochromatic Mood

Black can feel remarkably eclectic when paired with modern lighting, vintage paintings and casual textiles, as shown in this striking black bedroom by designer Breeze Giannasio.
8 of 27
Black and Tan

Black and tan is a classic combo. For a downtown bedroom, the design firm de la Torre design studio used luxe fur bedding in a fetching tan tone to complement a black statement wall.
9 of 27
Go Greige

If casting your walls in pure black causes trepidation, consider a just-left-of-black alternative: greige. As designer Jasmin Reese proves, the color can be just as show-stopping.
10 of 27
Tuxedo Luxe

Designer Erin King opted to use bright white trim to enhance black painted walls in this elegant and effortless-as-it-gets bedroom.
11 of 27
Make Room for Squares

Not feeling black paint? Designer Axis Mundi affixed black upholstered panels to the wall behind the bed to create a playfully posh escape.
12 of 27
Contrasting Hues

For the ultimate twist, Roughan Interiors, juxtaposed Chinoiserie—a style that's usually partnered with cheery pastels and bubbly brights—with a mood-making black statement wall.
13 of 27
Black Magic

For an apartment revamp, design firm CWB Architects hung a subtly textured wallpaper in a just-left-of-black hue. Low furniture and minimalist accents lend a feel that's part Scandi modern, part Regency redux.
14 of 27
Half-n-Half

For an artful alternative to black painted walls, try as designer Dan Scotti did in this restful retreat and apply black paint to just a lofted ceiling.
15 of 27
Glossed Over

Design firm Stewart M. drummed up extra sophistication in a black and white bedroom by applying a glossy black lacquer finish to the walls in this Scotland design scheme.
16 of 27
Balancing Act

Both edgy and romantic, designer Jennifer Robin balanced a black gridded wallpaper with black and white marbled pillowcases and teal velvet benches.
17 of 27
Go with the Grain

For a stately bedroom for a bibliophile, Stedila Design sprung for dark-stained anigre wood walls.
18 of 27
Walls That Talk

Studio Gild opted for a surplus of black in this Highland Park bedroom. A subtly patterned black wallpaper paired with black millwork accentuates a colorful curation of collectibles.
19 of 27
Pared-Back Black

To energize a classic black and white palette, the firm 2Michaels Design incorporated zesty pops of color. Bold green artwork, green sconces and a bright orange throw are the perfect complement to black paneled walls and simple white drapes.
20 of 27
Noir Star

There's no rule that says black can't be used in a teen's bedroom. As Wecselman Design displays, black can lend a feeling of unconventional cool to a teen's lair.
21 of 27
Black Repose

Black walls provide the ideal backdrop for sculptural white pendants in this restful retreat cued up by the firm Taylor and Taylor.
22 of 27
Black and Gold

An array of brass accents lend black walls a warm glow in this modernist bedroom designed by Studio Gild.
23 of 27
Fade to Black

Gray is a natural complement to black, as displayed in this urban-chic retreat designed by Studio Brunstrum. Silver sconces reinforce the palette while adding a hint of glamour.
24 of 27
Backed in Black

Rather than opt for a traditional headboard, the design firm Studio Gild equipped the entire wall behind the bed in shiny black cabinetry.
25 of 27
Hint of Dusk

Tricked out in a sooty gray, this master bedroom dreamed up by New York designer Jenny Wolf feels eminently elegant.
26 of 27
Dark and Handsome

Black walls paired with gray accents make for a handsome match in this dark oasis designed by the design firm Studio Gild.
27 of 27
Cast in Amber

An oversized pastoral landscape with golden undertones makes this black bedroom designed by Studio Sven a scenic escape.
Advertisement – Continue Reading Below
This content is created and maintained by a third party, and imported onto this page to help users provide their email addresses. You may be able to find more information about this and similar content at piano.io